Google searches for 'Notox' have increased by 7600%, officially making it the most in demand beauty trend leading up to summer 2023.
As part of the Micro-Trends Culture: Mapped report, the trends team at Wethrift have scoured Google Trends data to reveal the hottest micro-trends across the beauty, fashion and interior sectors.
After crunching the numbers, we were able to reveal that the craze set to dominate the next few months is 'notox', which has witnessed a 7600% increase in search volume, making it the most in demand summer beauty trend, and the biggest micro-trend overall.
Notox: is needle free Botox really a thing?
'Notox' refers to the range of treatments and products that can offer the illusion of botox, without the need to invest in the expensive and invasive needle treatment. Forget injectables, the notox trend is all about utilising more natural remedies for day-to-day skincare, and anti ageing techniques.
Typically used as an umbrella term, the trend can refer to silicone patches that coat the skin with hyaluronic acid, as well as a plethora of creams, lotions and electric masks all said to minimise the appearance of wrinkles and lines on the face.
Across social media, we have been seeing minimal makeup and 'clean' girl trends dominating the space, with a huge focus on people treating their skin with natural remedies, as well as minimal makeup. In fact, the #notox hashtag has 15.6 million views and counting.
From LED facials, retinol products, to chemical peels, TikTok is a bustling hub of notox alternatives as more people turn their focus on treating their skin without going under the needle.
Ahead of summer holidays and festival season, notox is an ideal trend for people to feel more confident and glowy, letting their skin breathe without any heavy foundation to get sticky in the heat.
The top 10 summer micro-trends across beauty, fashion and interior can be seen below.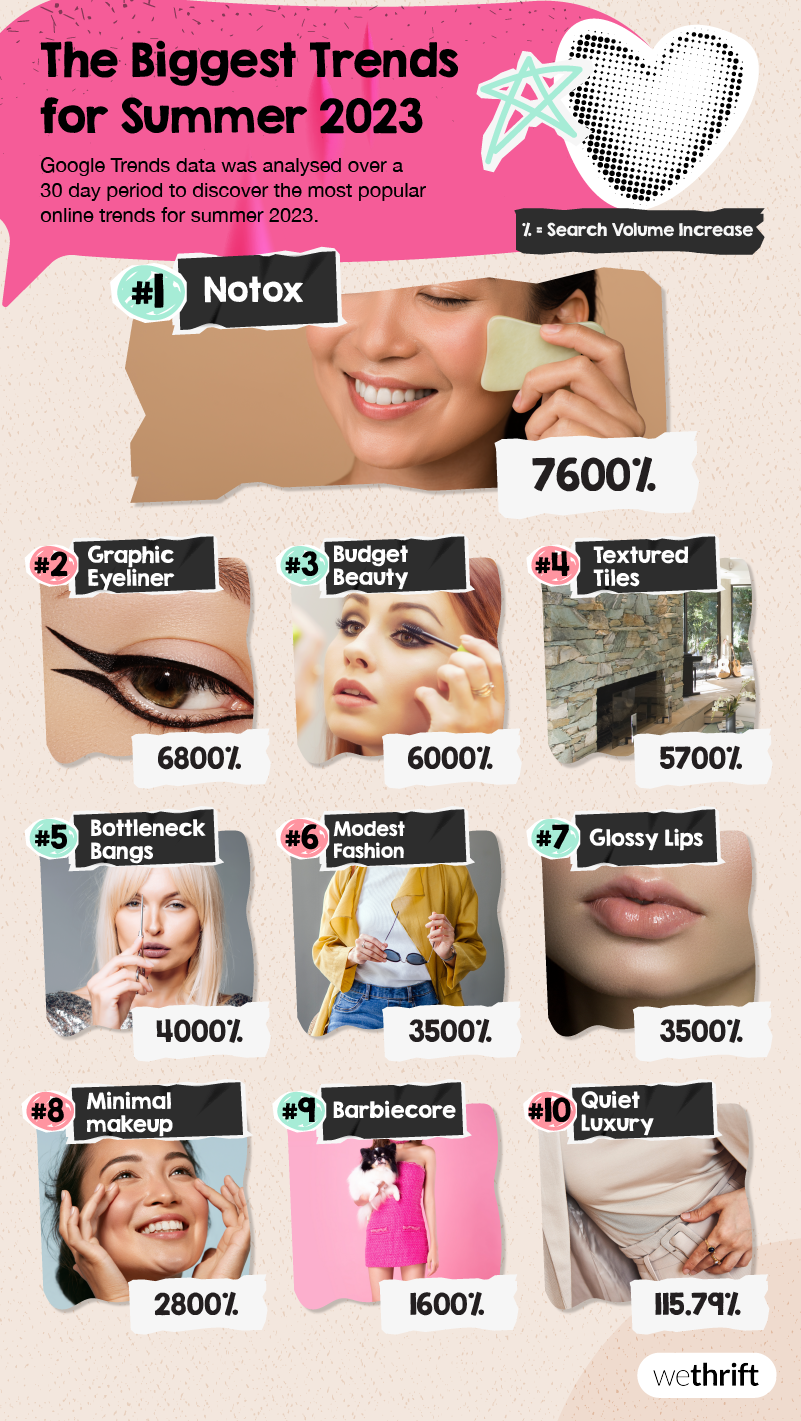 The full report can be found here: https://www.wethrift.com/articles/micro-trends-culture-mapped/
Methodology: Taking a seed list of the most popular online trends, the team analysed Google Trends data over a 30 day period across April and May to determine the most popular trends for summer 2023.